Web Hosting in Bangladesh: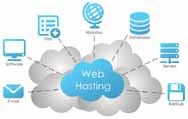 Bdwebs.com is the best web hosting company in Bangladesh for over 10 years old. We are providing USA base powerful Linux dedicated web server. We always try to provide our clients with the best web hosting and instant support for any kinds of hosting and domain related problems. I hope that you will get better service from us.
We are providing cheap Domain Name Registration, Reseller Domain Name Registration, Web Hosting, News Paper Hosting, Reseller web hosting, VPS hosting and Dedicated Server. Our price is affordable with great service and 100% client satisfaction and Moneyback Guaranty.
Select your hosting plans
WHY CHOOSE US
Guaranteed Uptime
We achieve high uptime leading to actual results of over 99.99%.
White Label Option
Non-branded cPanel and Private DNS upgrade for better server name branding.
24Hrs Support
Our experts are always available and provide fast technical support.
1-click Installs
More than 300 applications are available with our 1-Click installer
Money-Back Guarantee
Start your website with zero risk! You get an entire 21-day full money back guarantee for peace of mind.
Shared hosting, One's website is placed on the same server as many other sites, ranging from a few sites to hundreds of websites. Typically, all domains may share a common pool of server resources, such as RAM and the CPU. The features available with this type of service can be quite basic and not flexible in terms of software and updates. Resellers often sell shared web hosting and web companies often have reseller accounts to provide hosting for clients. Bdwebs.com is providing shared hosting with daily backup.